HORARIOS
Horarios Miércoles, Jueves, Viernes, Sábado, Domingo
Dolphin Swim Adventure
Horarios
02:30 PM, 09:30 AM, 11:00 AM, 12:30 PM
Duración del Programa
Duration of program: 15 min briefing and 50 min in the water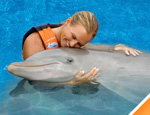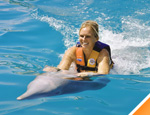 DESCRIPCIÓN
Puerto Vallarta - Dolphin Swim Adventure
Perfect entertainment: Up-close and underwater!
Experience this out of a dream adventure in the tranquil waters of the
Pacific Ocean
surrounded by a natural environment in
Dolphin Discovery
Vallarta. The Dolphin
Swim Adventure
is a unique program that allows you to immerse yourself into the dolphin's world for a magical moment. The highlights of the
dolphin interactive
program are the famous
Belly Ride
and
Boogie Push
.
The first begins with you holding onto his
flippers
as he swims backwards pulling you along. The latter starts with you on top of a boogie board as
the dolphin
propel you from your feet soles sliding you across the water. These
friendly mammals
will also say hello with their fins, kiss you, hug you, sing for you and enjoy quality playtime with you.
Dolphin Discovery
is located inside Aquaventuras Park Vallarta, a popular destination for locals and visitors alike. All our dolphin programs in
Vallarta
include the
Aquaventuras Park
admission, where you will be able to enjoy a number of activities including 10 water slides.
Reserve now and live the experience of a lifetime!