HORARIOS
Horarios Lunes, Martes, Miércoles, Jueves, Viernes, Sábado
Dolphin Swim Adventure
Horarios
01:00 PM, 03:30 PM, 10:00 AM, 10:00 AM, 11:00 AM
Duración del Programa
Duration of program: 45 minutes (including orientation)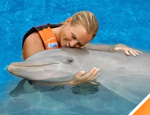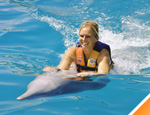 DESCRIPCIÓN
Cozumel - Dolphin Swim Adventure
Perfect entertainment: Up-Close and Underwater!
Among the many
things to do in Cozumel
and the activities the island has to offer, the Dolphin Swim Adventure is a must-do. The island, known for its
snorkeling and diving
opportunities and colorful sea life, is the home to our dolphins. At
Dolphin Discovery Cozumel
we have one of the most interactive
dolphin programs
in the Caribbean and one of the many things we love
about Cozumel´s
marine life.
In addition, this program includes the famous belly ride. You will hold on to the dolphins fins as the he swims backwards.
The dolphin will give you a kiss, a hug, and say hello with their fin. Start planning your trip to
Cozumel
today! Dolphin Discoverys amazing
marine animals
are waiting for you.
Reserve your program now and live the Experience of a Lifetime!
Dolphin Discovery location at Chankanaab Park is open at 9:00 am.