HORARIOS
Horarios Lunes, Martes, Miércoles, Jueves, Viernes, Sábado
Dolphin Royal Swim VIP
Horarios
01:00 PM, 02:00 PM, 03:30 PM, 11:00 AM, 12:00 PM, 10:00 AM
Duración del Programa
Duration of program: 15 min briefing and 40 min in the water.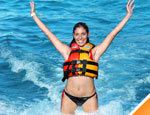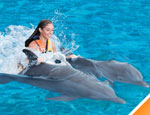 DESCRIPCIÓN
Cozumel - Dolphin Royal Swim VIP
Pure excitement: action and speed!
Among the many
things to do in Cozumel
, a one-of-a-kind experience is
Dolphin Discovery
. Our incredible habitat is located on the beautiful
island of Cozumel
, one of the most important
cruise ships port
in
Cozumel Mexico
. Our tender
dolphins
will offer you an array of interesting
aquatic activities
for you to enjoy. The
Dolphin Royal Swim
is the most dynamic of the
dolphin swim
programs and the most complete, as you will
swim with dolphins
in pairs.
It includes the famous
foot push
, where two dolphins will raise you up the water surface by pushing you from the bottom of your feet.
The ride will make you feel like you are flying!
Our
dolphin swim
program also includes the dorsal tow, a ride along the
Caribbean Sea
while you hold on to the dorsal fins. In addition, you will also receive
a kiss, a hug
, a handshake and you will be able to enjoy time with two
dolphins
in the water.
After your Dolphin
Royal Swim
program, you can enjoy the facilities of the unique
Chankanaab National Reef Park
where
Dolphin Discovery
is located. While you are in
Cozumel Mexico
, explore the island and find out what you love
about Cozumel
whether the island shoppings, the gorgeous beaches or
Cozumel diving
experience.
Place your reservation today and live the experience of a lifetime!
Dolphin Discovery location at Chankanaab Park is open at 9:00 am