HORARIOS
Horarios Martes, Miércoles, Jueves, Viernes, Sábado, Domingo
Dolphin Encounter
Horarios
01:00 PM, 03:30 PM, 10:30 AM, 11:30 AM
Duración del Programa
Duration of program: 15 min briefing and 40 min in the water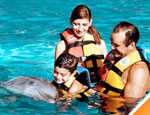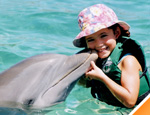 DESCRIPCIÓN
Isla Mujeres - Dolphin Encounter
Dolphins + Beach Club + Meals:
During the Dolphin Encounter program, you and your family will have the opportunity to receive all the affection of dolphins. In this swim with dolphins, program your kids will be able to enjoy safe and fun activities that Dolphin Discovery Cancun has specially designed for all ages.
You will be able to enjoy it from a platform that will make the water cover down-half of your body and swimming is optional. Your new friend will give you unlimited love, he will give you a Handshake, you will be able to pet him and swim in a place that dolphins call "home": the Mexican Caribbean. Our Beach Club is located in a totally natural environment, in the beautiful Isla Mujeres, an island only 20 minutes boat ride from Cancun. Enjoy delicious food, open bar and chill out!