HORARIOS
Horarios Martes, Miércoles, Jueves, Viernes, Sábado, Domingo
Royal Swim VIP Plus (Sea Life Discovery Plus)
Duración del Programa
Duration of program: 3 hours (including orientations)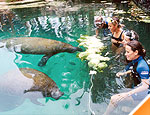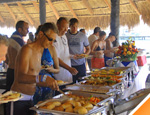 DESCRIPCIÓN
Isla Mujeres - Royal Swim VIP Plus (Sea Life Discovery Plus)
Dolphins + Manatees + Sea Lions + Beach Club + Meals
Live one day at the Mexican Caribbean full of adventure and close to dolphins, sea lions and manatees in a program where you will be able to meet and interact with these cute marine mammals. The Sea Life Discovery Plus program includes the same "action" and "speed" with dolphins of the Dolphin Royal Swim; however, activities with other amazing species are also included.
Dolphins will give you a handshake, kisses and will pull you with their dorsal tows to give you a speed ride! After that, the dolphins will push your feet to raise you up the water surface, you will feel like flying!
You will also meet our manatees and sea lions, you will learn about their diet, you will feed them, stroke them and they will give you a kiss back. Later, you will be able to meet the amazing stingrays and sharks! Our Beach Club is located in a totally natural environment, in the beautiful Isla Mujeres, an island only 40 minutes boat ride from Cancun. Enjoy delicious food, open bar and chill out!
* Kids and infants must swim with a paying adult as a companion.