HORARIOS
Horarios Martes, Miércoles, Jueves, Viernes, Sábado, Domingo
Royal Garrafon VIP + Dolphin Royal Swim VIP
Horarios
03:30 PM, 10:30 AM, 10:30 AM
Duración del Programa
Duration of the program: 15 min Briefing and 60 min in the water.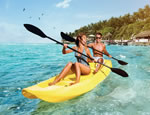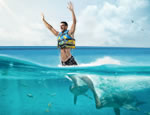 DESCRIPCIÓN
Isla Mujeres - Royal Garrafon VIP + Dolphin Royal Swim VIP
Adventure, action and speed!
At Isla Mujeres in
Cancun Mexico
, the newest Royal Garrafon VIP area offers limitless fun family vacation, adventure and privacy. This VIP area has A/C inside the main restaurants, lounge chairs, an infinity pool blending with the Caribbean Sea and other new features. You can enjoy it while having a drink from our international open bar, tasting the best dishes from our international buffet including shrimp, meat, salmon, sushi and other delights. Isla Mujeres in
Cancun Mexico
is where the perfect location meets your unforgettable vacation.
Among the luxury, you also have the possibility to experience our most dynamic program, the
Dolphin Royal Swim
. This incredible program includes the famous
foot push
, where your new friends —
two dolphins
— swim underneath you and push you from your feet to the water surface making you fly.
This interactive
dolphin
program also includes the dorsal tow, occurring when you hold onto the dolphins' dorsal fins and they pull you along the water giving you a fantastic ride. After that joy, the friendly
dolphins
give you a handshake, hugs and kisses and warmly welcome you into their home: Isla Mujeres
Cancun, Mexico
.
Reserve now, come and enjoy!