HORARIOS
Horarios Lunes, Martes, Miércoles, Jueves, Domingo
Royal Swim Plus
Horarios
01:00 PM, 09:00 AM, 11:00 AM
Duración del Programa
Duration of program: 15 min Briefing and 60 min in the water.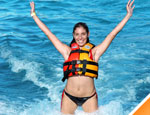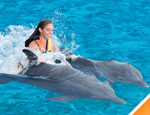 DESCRIPCIÓN
Riviera Maya - Royal Swim Plus
The most famous program can be described in two words: "action" and "speed". Two dolphins welcome you with a handshake, a kiss, and let you give them one. Then, they take you for a ride while you hold on their fins. You will feel the strength of your new friends while they push you across the water from the bottom of your feet in the thrilling foot-push. It is "the experience of a lifetime!"
Foot Push
Handshake
Kiss
Hug
Dorsal Tow
Hand target
In this complete program you will enjoy interacting with sea lions and manatees!